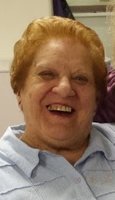 Della M. Martello
Della Martello, 92, of Clinton, was reunited with her husband, Rock, on the anniversary of his death, March 10, 2018.
Della was born on August 5th 1925, one of eleven children to her parents Mauro and Rose (Nigro) Pomilio. She was raised in Rome, NY and educated in Rome schools. On June 12th 1946, Della was united in marriage to Rocco Martello. In 1955, Della and Rock built their home in Clinton, a home that she loved dearly. She was a member of St. Mary's Church in Clinton. Della worked for many years at the Clinton Tailor Shop. Since 201,5 she resided at the Katherine Lutheran Home, making friends and getting involved with activities especially bingo, where she was known as "The Bingo Queen". Della was devoted to her family and cherished time spent with them. You never left her house hungry or empty handed.
Della is survived by her son and daughter-in-law, Rocky and Sharon Martello; granddaughter and her husband, Stephanie and Richard M. Sents; great-granddaughters, Jenna and Alanna Sents; and great-grandson, Levi Bartlett and his grandmother, Lisa Novak. She leaves behind her youngest sister, Mary Ostermann and many nieces and nephews. Della leaves her dear friends, Lorraine and Nellie on the Saul Unit. She was predeceased by her beloved son, Tony Martello; brothers, Mauro Jr, Daniel, Joseph and Anthony Pomilio; and sisters, Julia Gibson, Jessie Nash, Antoinetta Hammock, Theresa Merola, and Maggie LaButti.
In keeping with her wishes there will be no calling hours or service. Memorial contributions may be made to a charity of your choice. Arrangements are entrusted to the R. P. Heintz Funeral Service, Inc., 10 East Park Row, Clinton.
The family would like to thank the entire Lutheran Care Team and Saul Unit for their care and compassion. Family wishes to extend their appreciation to Rachel and Stephanie Nurse Practitioners of Optum Care.