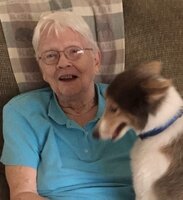 Regina Mary Childs
Regina M. Childs
1933 – 2022
S. Weymouth, MA – Regina M. (Apel) Childs, 88, of S. Weymouth, MA, formerly of Summerfield, FL and Sauquoit, NY, passed away July 3, 2022 at home with her daughters by her side.
Regina was born August 13, 1933 in Utica, NY, the daughter of Lawrence and Marjorie (McLaughlin) Apel. She was raised and educated in Sauquoit. On August 1, 1953, Regina married Edward Childs at St. Anthony of Padua Church in Chadwicks. Mr. Childs passed away in 2015. She has been employed with Utica Cutlery and later with Triad Tractor. Upon retiring, Regina and Ed moved to Florida. After Ed's passing, Regina moved to Massachusetts to live with her daughter.
Regina is survived by two daughters, Debra Childs, Oriskany, Linda Childs, S. Weymouth, MA; grandchildren, Matthew and Heather Sutherland, Edward, Christina, and Shawn Childs, as well as eight great-grandchildren. Also surviving are several nieces and nephews. Besides her husband, Regina is predeceased by her son Michael Childs.
Mrs. Childs funeral will be held on Friday, July 8, 2022 at 11 AM at St. Patrick & St. Anthony's Church, Chadwicks where her Mass of Christian Burial will be celebrated. Interment will follow in St. Mary's Cemetery, Clinton.
Arrangements are entrusted to R.P. Heintz Funeral Service, Inc., 10 East Park Row, Clinton. Online memorial and guestbook available at www.rpheintzfsi.com.