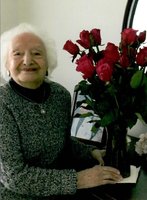 Ann L. Moracco
Ann L. Moracco 1916 – 2018
JAMESVILLE / CLINTON – Ann L. Moracco, 102, of Jamesville, NY, formerly of Clinton, passed away Wednesday, September 19, 2018 at St. Joseph's Hospital in Syracuse after a brief illness.
Ann was born February 17, 1916 in Utica, NY, the daughter of Lucian and Rose (George) Leone. She was raised and educated in Utica and a graduate of Utica Free Academy. On May 11, 1946, Ann married Angelo "Morgan" Moracco at Our Lady of Lourdes Church in Utica. Mr. Moracco passed away in 1999. Ann was employed with Commercial Travelers in Utica, and later at "Elizabeth's" dress shop in Clinton. She was a member of St. Mary's Church in Clinton. Ann had been a volunteer at Clinton Elementary School and was a member and past president of the PTA. She was also a member at the Skenandoa Golf Club.
Ann is survived by two daughters, Pam Moracco, Cornwall, NY, Sandy (& Jodie) Glore, Naples FL; a son, Michael (& Mary Handley) Moracco, Syracuse; seven grandchildren, Jodie, Jr., Kylie, Lynn, Jeff, Sara, Adam, and Morgan; six great-grandchildren, Skylar, Coleson, Porter, Miller, Eden, and Archer; one brother, Lucian Leone, Herkimer; as well as many nieces and nephews. She is predeceased by three sisters, Mary Leone, Rita Scalise, and Rose Thomas; and one brother, Frank Leone.
Mrs. Moracco's funeral will be held on Tuesday, September 25, 2018 at 9:30 am at St. Mary's Church in Clinton where her Mass of Christian Burial will be celebrated. Interment will follow in Calvary Cemetery, Utica. Relatives and friends are invited to call at the R.P. Heintz Funeral Home, 10 East Park Row, Clinton, Monday evening, from 4 – 6 pm.
Those wishing may donate to St. Jude Children's Research Hospital in Ann's memory.