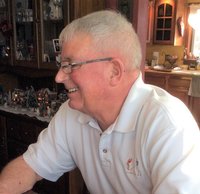 William J. Murphy
William J. Murphy 1945 – 2018
Oriskany Falls – William (Bill) J. Murphy, "Murph", 73, of Oriskany Falls, passed away peacefully on Sunday, October 28, 2018 at his sister's home in Deansboro.
Bill was born on October 6, 1945 in Oriskany Falls, NY, the son of Timothy and Betty (Lathrop) Murphy. He was raised and educated in Oriskany Falls. On November 11, 1982, Bill married Nancy Richmond. Mrs. Murphy passed away in 2013. He was employed with the New York State Department of Transportation, based in Waterville. Bill was a member of the Sons of the American Legion, Kelley-Phillips Post #569, Oriskany Falls. He was of the Methodist faith.
Bill is survived by 3 daughters, Cindy and Doug Jordan, Waterville, Lisa Miles, Rome, Susan and Billy Marriot, Waterville; five grandchildren, Collin (& Ashley) Wood, Tyler Wood, Savanna Jordan, Jessie Miles, Christian Case; as well as by 5 great-grandchildren. He is also survived by two sisters, Connie and John Mennig, Vernon, and Debbie and Jake Campbell, Deansboro; as well as by several nieces and nephews.
Relatives and friends are invited to the Kelley-Phillips American Legion Post 569, Oriskany Falls, on Friday, November 2, 2018 from 3 – 6 pm in memory of Mr. Murphy. Interment, in Deansboro Cemetery, will take place privately at the convenience of the family.
Those wishing may donate to the Kelley-Phillips American Legion Post 569 in Bill's memory.
Arrangements are entrusted to R.P. Heintz Funeral Service, Inc., 10 East Park Row, Clinton.