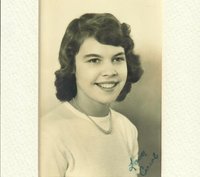 Carol M. Vangura
Carol M. Vangura 1937 – 2018
CLINTON – Carol M. Vangura, 81, of Clinton, passed away Tuesday, December 11, 2018 at St. Elizabeth Medical Center, Utica.
Carol was born May 4, 1937, in Clinton, the daughter of Stephen and Caroline (Laska) Vangura. She was raised and educated in Clinton, and a graduate of Clinton Central schools. Carol had been employed with Utica First Insurance Company (formerly Utica Fire Insurance), until her retirement. She is a member of St. Mary's Church in Clinton.
Carol is survived by two brothers and a sister-in-law, Stephen and Beverly Vangura, Largo, FL, Vincent Vangura, Clinton, a sister and brother-in-law, Mary and Charles Kunz, Charlton, NY; special cousins. Bertie and Mickey, as well as several nieces and nephews.
Miss Vangura's funeral will be held on Saturday, December 15, 2018 at 10:00 am at St. Mary's Church in Clinton, where her Mass of Christian Burial will be celebrated. Interment will take place in St. Mary's Parish Cemetery. Relatives and friends are invited to call at R.P. Heintz Funeral Home, 10 East Park Row, Clinton, on Friday evening, from 4 – 7 pm.
The family wishes to thank the staff of St, Elizabeth Medical Center, ICU for the care and kindness extended to Carol during her illness. Also, thanks to Dr. Roger Moore, who cared for Carol in a special way.