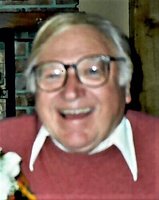 Lewis F. Janus
Lewis F. Janus 1934 – 2019
DEANSBORO – Lewis F. Janus, 84, of Deansboro, passed away Wednesday, July 24, 2019 in the comfort of his home.
Lewis was born November 8, 1934, in Rome, NY, the son of Joseph and Gladys (Kozak) Janus. He was raised and educated in Clinton and a graduate of Waterville High School. He went on to earn his Bachelors Degree from Michigan State and then his Masters Degree from New York University. Lewis was employed with Society Reality, based in New York City and was the developer for several area real estate developments. He was a member of St. Mary's Church in Clinton.
Lewis is survived by his brother, Ernest Janus, Deansboro; as well as by several cousins, including John Kozak, Clinton. He is predeceased by his mother, Gladys, in 1980, his brother, Edward, in 1991, and his father, Joseph in 2001.
Lewis' funeral will be held on Saturday, July 27, 2019 at 10:00 am at St. Mary's Church in Clinton, where his Mass of Christian Burial will take place. Interment will follow in St. Mary's Parish Cemetery. Relatives and friends may call at R.P. Heintz Funeral Service, Inc., 10 East Park Row, Clinton, on Friday evening, from 5 – 7 pm.
Those wishing may donate to the Deansboro Volunteer Fire Department or to the Michael J. Fox Foundation for Parkinson's Research, Grand Central Station, PO Box 4777, NY, NY 10163-4777.