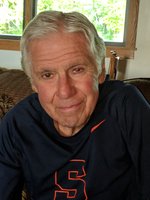 Bob Deschano
Robert A. "Bob" Deschano
1945 - 2019
Clinton - Bob Deschano left all of us suddenly on October 15, 2019, while undergoing one more CAT Scan at MSKCC in NYC. He enjoyed 74 years of a life well lived.
Born in Utica to an extended Italian family, with his parents Fannie and Alex Deschano and multiple aunts, uncles and cousins. His trade was being a CPA but his loves were Saratoga, golf, climbing mountains, reading books, the Yankees and of course his best friend and wife, Jill Tyksinski-his partner on so many of his adventures. Bob was a genuine, unassuming and honest man who had no enemies, only friends. He will be missed by all who knew him.
Bob leaves behind his wife, Jill; his son, Bob; his sister, Cindy with husband, Lyle Zysk. He also leaves behind Jill's kids and grandkids, that he loved as family, trying not to miss any sport competition of theirs, Stacy and Jon Davignon, with Piper, Finn, Wynni, Milo, and Hobey; Adam Tyksinski with Addi; Katey Tyksinski and Ryan in LA; Jake and Kellie Tyksinski, with Max and Nick.
Bob didn't care for wakes or funerals, instead, a "BOB" party at Cavallo's wine bar will be held for all to come who will share a Bob story and toast, Friday night, November 1, 2019 from 5-8pm. In lieu of flowers, please send a donation to a charity of your choice in memory of Bob.
Arrangements are entrusted to R.P. Heintz Funeral Service, Inc., 10 East Park Row, Clinton. Online memorial and guestbook available at www.rpheintzfsi.com.